Success Story | Druffel Gardens
Flowers and Produce from Walnut Hills Garden Inspire Hope and Bring Joy to Cincinnatians Facing Challenges
Dan Druffel and Stella McConnell have been neighbors for more than 40 years – looking out for each other on Boone Street in Walnut Hills. Now they're working together with volunteers to provide 85 vases of fresh cut flowers each week to patients at area hospitals and those served by The Little Sisters of the Poor.
Dan established his landscaping business on Boone Street in 1970. Stella has lived on the street since moving there from Over-the-Rhine around the same time. She kept an eye out on Druffel's building, in case a door was left open inadvertently or any problems arose. Dan retired in 2018 after turning Dan Druffel Inc. Landscaping over to his son, Brandon Druffel, a landscape architect.
Although he's had four back surgeries and likely will need another one, Dan isn't sitting still in retirement.

"We always ran five crews of landscapers and every night we'd leave a vase of fresh cut flowers for our clients. I love the joy and inspiration that flowers bring to people and wanted to continue that mission with this garden."
After attending a Walnut Hills community meeting and sharing his idea that it would be fun to start a garden, friends connected Dan with Betty Waite, Chief Financial Officer, at the Walnut Hills Redevelopment Foundation (WHRF). Betty took Dan on a tour of available properties and connected him with the Landbank once they found the lots at Boone and Morgan, just down the street from his business's offices and Stella's home.
The Landbank acquired four properties (2400 – 2406 Boone) over several years from the forfeited land list from Hamilton County. Dan's application for the four properties was approved by the Hamilton County Landbank through the Gardens + Greens program, which allows vacant lots to be sold at a nominal price so they can be transformed into gardens or community green space. Through this program, the buyer agrees to maintain the property as green space for a minimum of five years.
"Michael Golden helped me through the process with the Landbank," commented Dan. "He was always very responsive and helpful – which I appreciated." After acquiring the properties, Dan got to work right away, tilling and prepping the land in late 2018.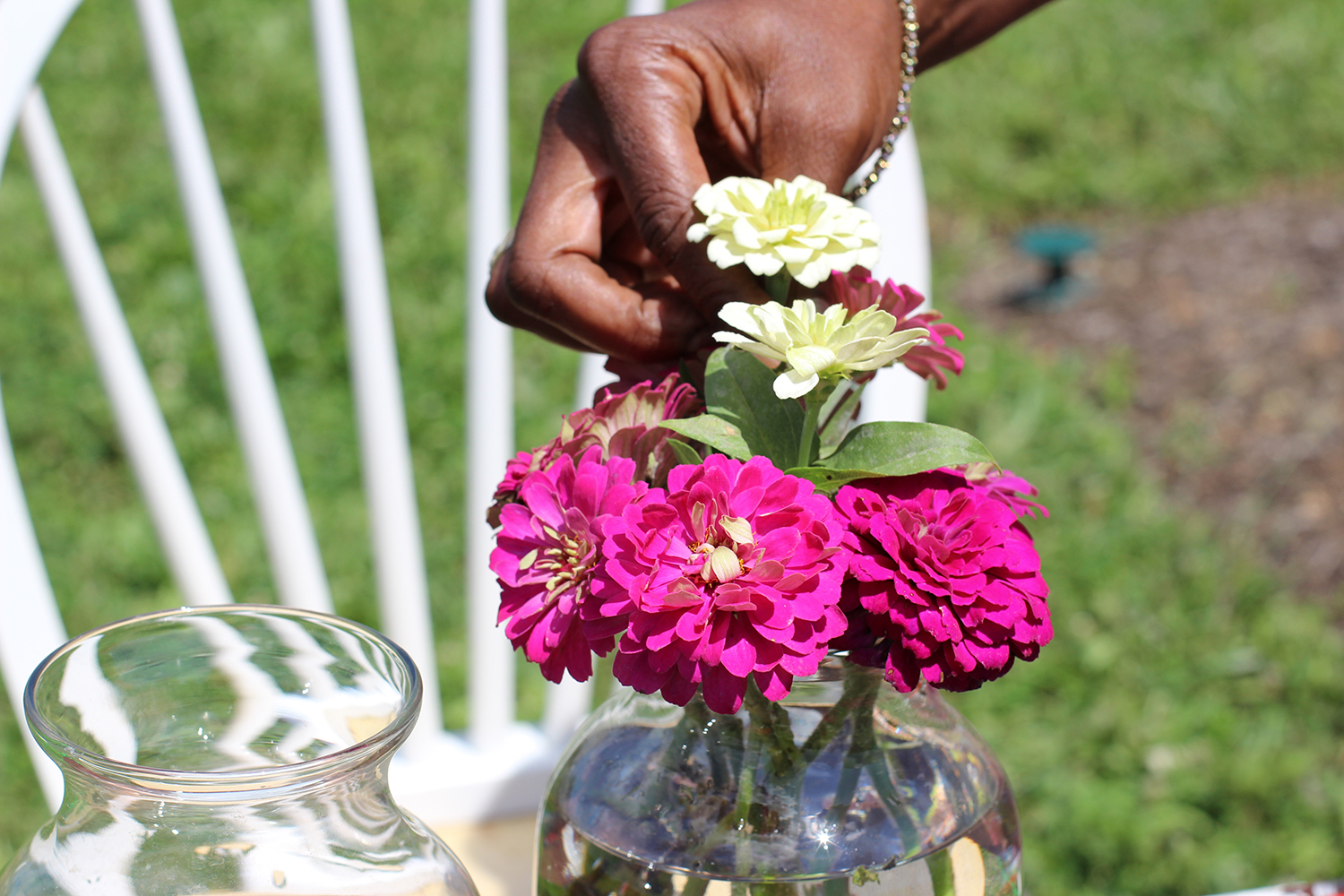 Drawing on his extensive network of contacts in the nursery and landscaping business, Dan was able to secure many donations from friends and colleagues to get the garden started right away. Seeds were donated by Burpee Seed and grown by Bob Maddox, owner of Delhi Garden Center, Inc., at his greenhouses in Sunman, Indiana. Dan estimates there are more than 2,500 zinnia and 500 snap dragons planted in April 2019 that are now producing flowers. He chose zinnias because they have a low pollen count and won't disturb the patients at the hospitals where the flowers are delivered.
Stella helps manage volunteers – some are master gardeners and others are from the Cincinnati Zoo. They help cut and arrange vases each day at 9 a.m. 872 vases of flowers have been donated in 2019 on a daily rotating schedule to:
Good Samaritan Hospital (TriHealth) – Monday
Cincinnati Children's Hospital Medical Center – Tuesday
Down Syndrome Association of Greater Cincinnati – Wednesday
UC Health Barrett Cancer Center – Thursday
The Little Sisters of the Poor – Friday

"What Dan has accomplished with the lots he acquired through the WHRF and Landbank, is exactly what we hoped. He has taken lots that were unloved and turned them into something beautiful with a beautiful purpose. I was in the breast cancer clinic last week, and saw zinnia's in glass vases on the scheduler's counter. They brightened my day, as they do other cancer survivors' days. Flowers are nature's way of smiling. This garden brings smiles to many."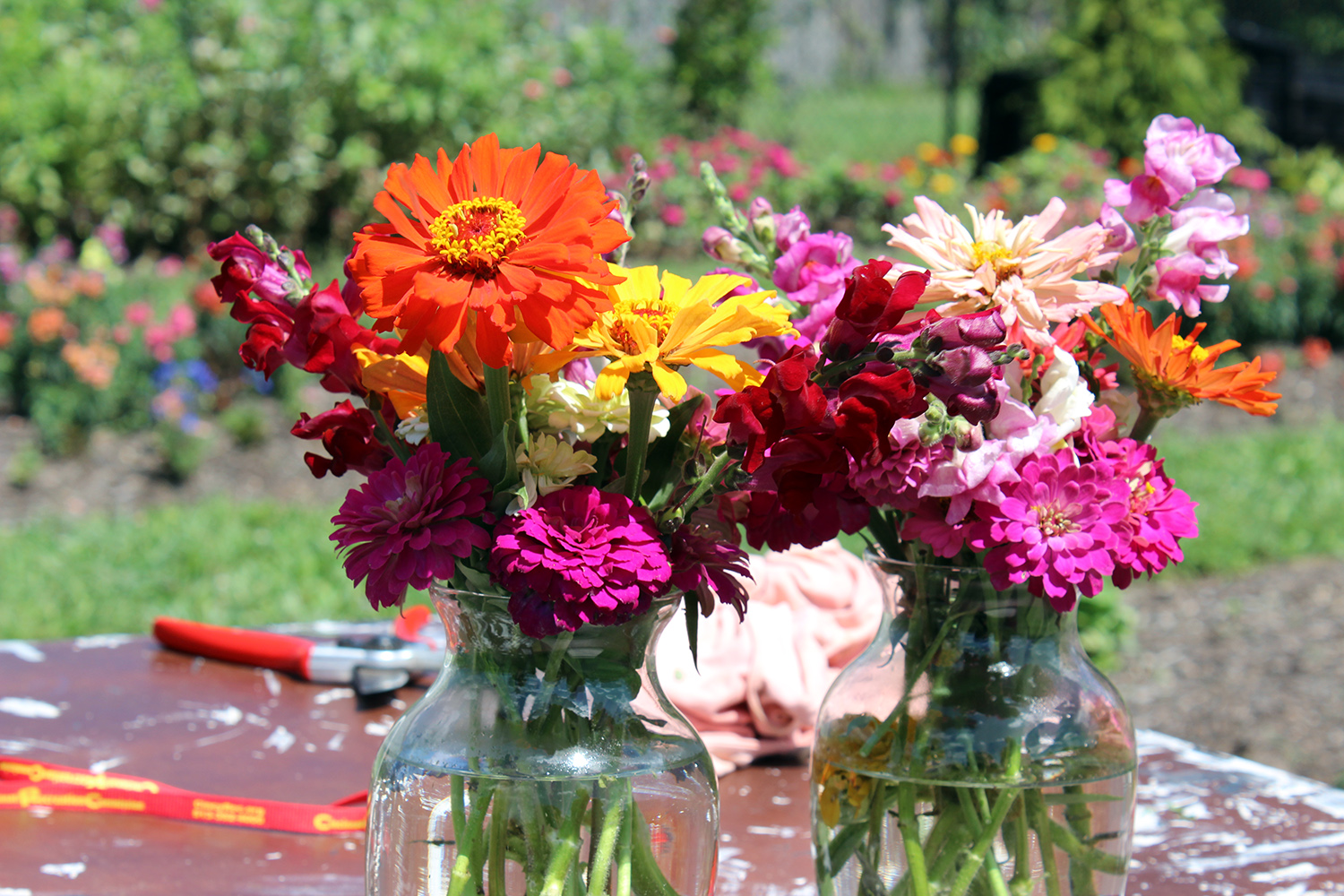 "My goal is to donate more than 1,500 vases by the end of the season in October," shared Dan. "Right now, I buy the vases but we also accept donations." Some of the flowers didn't survive the rainy season this spring so Dixie View Nursery donated vegetable plants, including tomatoes, zucchini, cantaloupe and a variety of peppers. The produce is available to volunteers and neighbors as it comes in season.
Three locust trees were planted in the southeast corner of the garden – they'll provide shade in a few years – where Dan plans to put a picnic table. Plants around the perimeter of the garden were donated by Kendrick & O'Dell Landscape and Natorp's Nursery. Hydrangeas were donated by Greg Ammon, Ammon Nursery. Dan would like to add more perennials to the garden this winter.
Dan's not resting on his laurels after the first season. He has plans to add a patio to the garden and would like to add milkweed for Monarch butterflies and beehives. In order to start the 2020 season and flower donations earlier, he wants to plant 2,000 tulip bulbs this fall. His goal is to fill 100-125 vases per week and to take on another nonprofit donation site.
Although many plants and materials were donated, Dan estimates he has invested more than $25,000 in the garden. He's currently seeking a donated lawn mower and picnic table and vases are always needed. Volunteers are welcome to come to the garden at 9 a.m. Monday – Friday to assemble vases.
Druffel Gardens is hosting an open house on Saturday, September 14, 2019 from 11 a.m. – 2 p.m. If you plan to attend, please email Dan.
More information about the programs available from the Hamilton County Landbank is available at www.hamiltoncountylandbank.org/how-we-help/our-programs/.